About Dianne
4th and/or 5th grade classroom teacher for 7 years

Special Education Teacher (Mildly Mentally Handicapped to Multiply involved kids) for 4 years

Jerome Foundation Grant recipient to study puppetry at the National Puppetry Festival in Tampa Florida – Summer of 2001

Member of the Twin Cities Puppetry Guild and The Puppeteers of America

Performed in over 30 Minnesota Libraries during the summer of 2001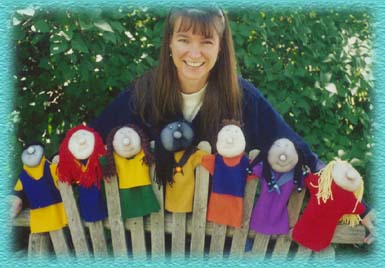 Originally, I started using puppets while teaching as a way for kids to more deeply experience the stories in their language arts curriculum, help them personally connect with the characters and plot, as well as to have fun while writing something usable. What I discovered was puppets were an incredible teaching tool that helped me reach many kids who seemed uninterested in reading and writing. Even more than a tool, I saw how expressive and creative kids could be behind a puppet stage. Over the years I developed many different types of puppets and a myriad of uses for them. I used puppets to informally assess students in social studies, language arts, even math; as a way to solve social problems that developed between children on the playground and in the classroom; and for language and social development in children with mentally handicapping conditions.
By my last year as a 4th grade teacher, I directed a play that 90 kids participated in using 6-foot giant puppets made of garbage can lids and other recycled materials. Each child applied for the team they were to work on: script writing, dance, vocal music, rhythms, props and sets, actors, or puppeteers. The students created the scripts, wrote the words for the songs, developed rhythms using African instruments, did their own choreography, props, sets and puppets. The community performance was the highlight of the year for the 4th grade students. These experiences have life long impact on children, and this is how I believe children should learn – through the arts.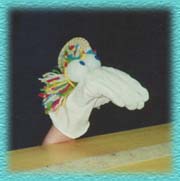 All these puppet experiences as a classroom teacher lead me to my current life as a professional puppeteer. Now I spend much of my time creating, performing and studying puppetry. There are few things I love more than guiding a group of kids into a writing and performing experience that they will cherish for the rest of their lives.
Call at 320-286-2997 or e-mail: dianne@gaschstories-puppets.com for more information.
-------------------------------------------------------------------------------------------------
The following is reprinted from The Drummer.
-------------------------------------------------------------------------------------------------
Meet Dianne Gasch--Puppeteer
by Karen Laven
Give Dianne Gasch a funnel, a sponge, paint, and some noodles and she'll show you a puppet. Gasch, from Cokato, is a witty, devoted soul who wears her heart on her hands. The former schoolteacher turned puppeteer reaches out to children through her unique work.
After she and her husband Bob Gasch (a renowned professional storyteller) adopted their infant son two-1/2 years ago, Gasch desired a career that would allow her flexible time with her son. "Teaching is not a job for me," says Gasch. "It's a life choice. I knew I didn't want to be so tied to my work."
Ultimately, Gasch, who grew up on the Mississippi River just north of St. Cloud, resigned from her Wayzata teaching career and became a professional puppeteer. This isn't nearly as off the cuff as it might initially sound, however.
Throughout her four years spent teaching first the mentally handicapped, and then seven years teaching 4th and 5th grade students, Gasch relied heavily on the use of puppets in her classroom.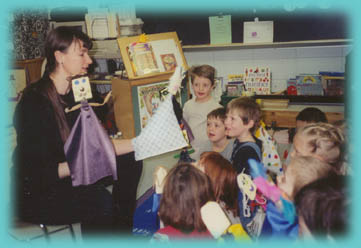 She incorporated the handmade creatures into the Language Arts curriculum, allowing children to connect with the plot and characters at a deeper level. She soon discovered that this worked not only for Language Arts but all the other courses.
In addition, Gasch would use the puppets to help solve social conflicts within her classroom; availing children the opportunity to role-play the problem and brainstorm for possible solutions.
During her time teaching, Gasch also became known for orchestrating a special year-end "Big Show." This event garnered much anticipation and accolades from students, teachers, and parents. By Gasch's final year at Wayzata, she directed a play in which 90 children participated.
Each child selected a special task to work on, such as scriptwriting, choreography, musical accompaniment, vocals, props, designing and building the set, and puppeteers.
Weeks of purposeful preparation culminated in an extravaganza featuring 6-foot giant puppets crafted out of garbage can lids. Gasch says the children's talented performance never failed to awe them all.
It's important to note that when Gasch left teaching she didn't abandon her goals. She expounded upon them. "I took what I love the most about teaching with me," she says.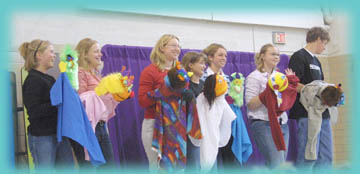 Nowadays, Gasch gets bookings at schools throughout the state and shares her skills via several puppetry forums: The students can create and put on their own "Big Show;" Gasch will perform at assemblies; and she also conducts student workshops and teacher workshops.
No doubt Gasch is in her element with children and puppeteering. Once she's performed at a school assembly, she is often asked to return to conduct workshops. When she arrives she asks, "What are you guys studying now?" And she tailor's the workshop around that. "I don't have one set program," she says.
The student workshops include: "Problem Solving," "Fracturing Folktales," "Animal Stories," "Show What You Know," and "Puppet Building." For teachers, Gasch provides information to educators along with creative tools for puppet follow-up.
The act of puppeteering uses each sense of intelligence, says Gasch. Oral language skills are illuminated, as are gross motor skills. And everybody knows that learning is easier when you're having fun doing it.
Not surprisingly, Gasch adamantly believes that the way to reach and teach a child is to knock on their creative door. Not just by concentrating on test score numbers. "We carve away all the creative parts until the children fit into that little hole," she says. "I want to teach kids how to find their creative mind."
Gasch, who is a member of the Twin Cities Puppetry Guild and The Puppeteers of America, is known for turning junk into puppets. Why junk? "I'm cheap!" she says with a laugh.
The animated woman originally taught children how to make puppets from old panty hose, but the process took hours to do. Deciding it was preferable to spend the majority of their time utilizing the puppets instead of working on them, Gasch teaches a quicker method of puppet building now.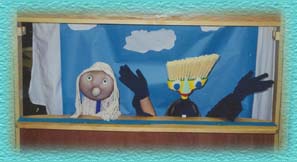 She also has a multitude of puppets in her repertoire that she brings to schools for the kids to play with if the booking schedule does not allow the time for the children to build their own.
To think that such items as a sock, meatball scoop, paint, sticks, or a mop can evolve into a character to call your own is truly a child's dream. When Gasch is conducting her workshops she brings a cart full of the aforementioned "junk."
"I set out this myriad of stuff," says Gasch, "and the kids say 'wow!'" The animated puppeteer encourages children to use their own ideas and imagination when creating their puppets. Gasch estimates that over 250 children have built their own, unique puppet in her workshops.
The sky's the limit for Gasch when it comes to puppet size. In addition to hand puppetry, she builds and inhabits larger parade puppets. Utilizing a backpack brace, Gasch hops inside her 12-foot tall Irish Giant Sarah MacCoul parade puppet and brings her to life.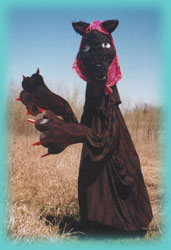 She also designed and created "Big Bad Wolf's Mama:" an 8 1/2-foot tall puppet that is mother to the misunderstood Big Bad Wolf. "He's not really so bad," relays "Mama." Truth-be-told, he has terrible allergies, causing him to "sneeze" (not blow!) the pig's houses to smithereens.
Her creations are a source of pride for this teacher turned puppeteer. A defining moment came after she created "Big Bad Wolf's Mama." That 8-1/2, hairy-footed feat gave Gasch the confidence to say, "I am an artist…without flinching," she says. She adds that a giant raccoon is currently in the works.
These lofty creatures are popular, yet can be cumbersome. Before booking parade puppet performances Gasch inquires how tall the ceilings are and whether or not they have any ceiling fans.
The woman with the larger-than-life imagination once had to perform in a tiny stairwell with the children plunked on the stairs because that was the only place her character would fit. "And if I moved forward two feet I'd bonk my head on the ceiling," she says. "I'd have to remember to say 'Ow!'" she adds. "You go with the flow."
Even though she's been at it for only a couple years, Gasch is building up a schedule indicative of her popularity. Last year, she performed at various venues besides schools, including over 30 Minnesota Libraries and Camp Friendship.
During the summer of 2001, she was proud to be the recipient of the prestigious Jerome Foundation Grant. "I got to travel to Tampa, Florida and study under the best puppeteer's in the world," she says, including a renowned Sesame Street puppeteer.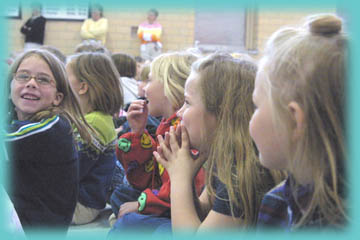 "It's very exciting to perform," Gasch says. Yet it is the school workshops that mean the most. "My drive is to educate. The kid part is why I'm in it. There are few things I love more than guiding a group of kids into a writing and performing experience that they will cherish for the rest of their lives."
If interested in learning more about pricing and/or booking Dianne Gasch, you may phone: 320-286-2997 or you can peruse the Gasch's joint website:
www.gaschstories-puppets.com