Multicultural Stories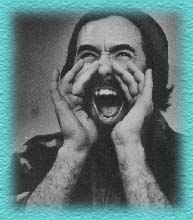 PAUL BUNYAN – (American & Canadian) – In wool shirt, stocking cap and logging boots, he tells his TALL tales about logging throughout North America and the adventures that he, his friends and Babe the Blue Ox have had. All Ages.
JOHNNY APPLESEED – (American) – Barefoot, tattered clothes and a cooking pan hat, he describes his work providing apples for folks in the wilderness and his caring for all living things. All Ages.
JOHN CLEMENS: MARK TWAIN'S FATHER - (American) – In his white shirt, old-fashioned tie, black vest and pants he tells of his son's upbringing in Hannibal, MO. You hear of the adventures Sam had and how they were later written about in the books Tom Sawyer and Huck Finn. Grade 3 & up.
ROBINSON CRUSOE – (English) –Stories of his being shipwrecked on a deserted island and learning to make use of what he could find to live an interesting and comfortable life alone. Grade 3 & up.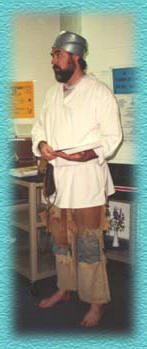 ALI BABA AND THE FORTY THIEVES – (Arabian) – Ali Baba with his turban, open neck shirt, and flowing pants, tells of his discovery of the hidden riches of the forty thieves and how a brave and cunning woman saved him from being killed by the thieves. Grade 3 & up.
SINBAD THE SAILOR – (Arabian) – With his turban, open neck shirt, flowing pants and big boots, he tells of his daring adventures from one of his 7 voyages. Grade 3 & up.
STORIES FROM ALONG THE RIO GRANDE – (Hispanic) – From the San Juan mountains in Colorado to the Gulf of Mexico, collected stories and folklore about love, kindness, helping others, pride, greed and unexplainable events. Historical stories include Native Americans, ranch life, Padre Island and river boats. All Ages.
FOLKTALES FOR CHILDREN OF ALL AGES – (Jewish) – Rooted in Jewish tradition from around the world, these are tales about wise men and fools, good spirits and bad, confused cats and dogs, fisherman and carp, storytellers and horses and other bits of wisdom and wonder. All Ages.
THE STORY OF DR. SEUSS – (American) – How Theodor Seuss Geisel's upbringing, his advertising cartoons and his desire to make learning to read fun, helped create the Dr. Seuss stories we all love. Parts of his stories may be read. All Ages.
AESOP'S FABLES – (Ancient) – Fables about common animals who show us simple bits of wisdom.. All Ages.
LEPRECHAUN LORE – (Irish) – Tales of fun and mischief about Ireland's famous little people. All Ages
Click here for more story choices, or click the "stories" book on the side.