Workshops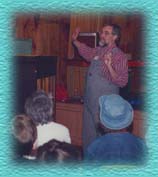 STORYTELLING: THE MAGICAL READING MOTIVATOR – A workshop for teachers, librarians and parents in which everyone learns how to be a storyteller and how to use their stories to motivate children to read and become more aware of the world around them.
STORYTELLING AND THE WRITING PROCESS – Imagination and multi-sensory description are two of the keys to good writing. They are also key ingredients in well-told stories. Learn how to use storytelling to improve the quality of your students' writing.
"THE READING ROOM": CHALLENGES FACING LIBRARIANS TODAY – Librarians are challenged by parents, educators and especially children to make the library a more exciting, interesting and useful place. Though role modeling, sharing ideas and group work, this inservice will provide practical ideas to meet today's challenges.
READING AND TELLING STORIES TO CHILDREN OF THE MULTI-MEDIA AGE – Children are captivated by the fast paced action and excitement of TV, video games and computers. How can parents and teachers compete as they read books and tell stories to today's children? It's easy! Learn simple and effective techniques for reading and telling stories that will enchant your children.
HOW THE ONE ROOM COUNTRY SCHOOL FITS IN TODAY'S CLASSROOM – Teaching in a one room country school during the first half of the 20th century presented many challenges. Those teachers created many ways to meet the wide ranging needs of their students. Learn many of these forgotten teaching strategies and how to use them in today's classroom.