Family Lore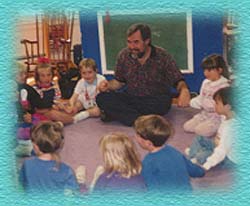 SEASONS AT GRANDPA'S AND GRANDMA'S FARM – Tales of rural traditions and the life-style of an old fashioned family farm during the various seasons. Planting the seeds and milking the cows, the big summer picnics, the long hours of work during harvest time or the joys of a horse drawn sleigh ride may be featured. Stories will focus on the current season. All ages.
CAMPFIRE TALES – A variety of stories: some spooky, some nature lore, some real tall from Bob Gasch's many years of sitting at campfires around the world. Great for your outdoor activities or environmental education classes. All ages.
LUCKY LARS' LEGENDARY LAKE LORE – Wearing his bobber collection on his "always catch something" hat, Lars tells of his adventures boating, water skiing and trying to catch "the big one" on Minnesota's lakes and rivers. Grade 3 & up, Families, Senior Citizens.
THE BEST BIKE IN THE WHOLE WORLD - An original story about how a brother and sister progress form their tricycles, to riding two wheelers, to customizing their bikes to make each the "best bike in the whole world." All ages.
"ARE WE THERE YET?" – The adventures on a family summer vacation, told using songs and stories. Includes games played as the miles pass by, backseat bickering, cooking out over a fire, and spending nights sleeping in a tent as a family travels across the country. All ages.
"IS THE WATER WET?" – Original stories and songs about a brother and sister spending the summer in pools, lakes and rivers, learning to swim, going off the diving board, playing water games and looking for sea monsters and mermaids. All ages.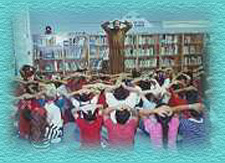 THE WIZARD AND THE GREAT WISH MACHINE – A story that helps everyone understand their wishes and shows them with, a little magic and their own Great Wish Machine, how they can make their wishes come true. Pre-school – Grade 4.
"HEY BUNGLES": NOT SO TALL TALES – A combination of stories about growing up on one of Minnesota's famous lakes, visiting an interesting collection of relatives in "the East", and ideas and techniques on how everyone can preserve and tell their own family stories. All ages.
Click here for more story choices, or click the "stories" book on the side.